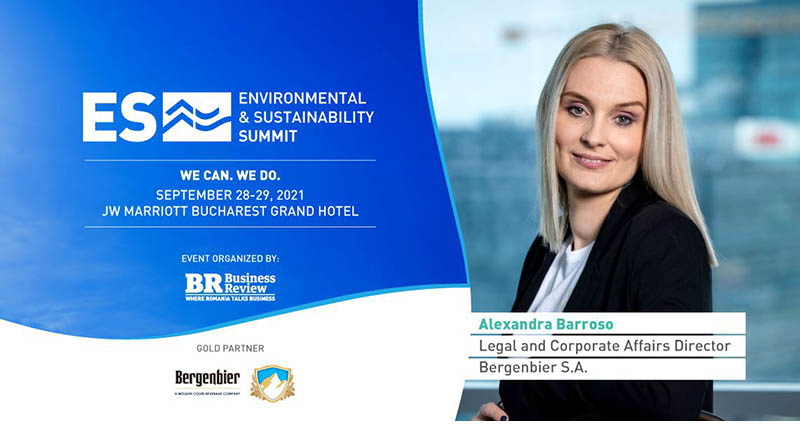 14 octombrie 2021
Alexandra Barroso, Bergenbier S.A.: Sustainability is a commitment for us; do more with less
Recent events have shown the importance of the environmental part in any business. And sustainability is a big part of the process of making a business environmental-friendly. "It is a commitment for us: do more with less," said Alexandra Barroso, Legal and Corporate Affairs Director at Bergenbier, present at the Environmental & Sustainability Summit organized by Business Review.
"Under the umbrella of sustainability we have undertaken a series of projects, following our global objectives; we are not talking only about the supply chain which we try to make it more efficient, but also about social responsibility and sustainable consumption," said Alexandra Barroso.
"Sustainability is a change that most companies have adopted in recent years, and I take the opportunity to say that our sustainability report is available on the company's website and there you can see what we have done in recent years."
Water is paramount in the beer business. The irrigation system in agriculture is complex and expensive, while water management in a factory may seem simpler, it still has many challenges. "Through our water management system, the water that is used in the process is treated and re-enters a new production process, so it doesn't go into the sewer. That's how we manage to use as little water as possible. We have some well-established targets, and our goal is to not waste water at all", said Alexandra Barroso.
Local farmers needed
One of the problems that beer producers encountered in the past was the fact that they couldn't find enough hops in Romania, so they had to import them. "The problem did not arise from the fact that Romanian farmers didn't want to produce more, but from various legislative impediments. The Romanian Brewers Association also includes producers of raw materials and one of the great successes was that it managed to obtain the necessary legislative changes to produce more hops. That will help also to reduce costs because when you import a lot, the prices in the chain also increase," said Barroso.
Sustainable communities
The pandemic forced all of us to rethink the way we interact and that lead to creating sustainable communities.
"When we talk about communities, I look at the one in our company and what makes it easier for us to get over a crisis is the feeling of connection, in addition to the financial part. In the last year and a half, our lives have changed completely. We didn't interact as much, we moved home with the office. We needed to connect, and we have managed to do this within the teams we have. We put in place programs to keep people informed, we were there for the communities, we implemented internal actions that made us feel safe together even in a difficult period such as a pandemic," said Barroso.
And digitalization helped not only in working-from-home but also in keeping the communities together. Today, digitalization is in everything. It also helps in reducing risk for the business. "Digitalization means collecting and analysing data instantly. The bureaucracy remains at a high level, especially in the relationship with the public administration, but when you can quickly analyse the data you have, you make your work easier. In the production area, digitalization helps to achieve sustainability objectives, from water management to the distribution part," concludes Alexandra Barroso.
Education is an important part of every industry and comes in many shapes and forms. "The sustainability part has defined the 2025 targets in the European legislation, which brings single-use plastic and others. I am proud that we have achieved a lot in 2020-2021, on all levels, as we have adapted to the new reality. One of the campaigns I would like to mention, which touches the sustainability part, is the one through which we managed to plant 150,000 trees, in three years, in different areas of Romania. And not only did we plant them, but we are also constantly taking care of them. We receive messages of appreciation from communities where we planted trees and we are being asked when and if we will continue this campaign. It is rewarding to see that this campaign really benefits to communities and lasts way beyond its duration", said Barroso.
The consumption of water and energy is also very important and the goal is to reduce it every year. "This year we have reduced water and energy consumption by 10 percent compared to the assumed targets," said Barroso.